In this featured blog post, we are thrilled to share another of PLICA Ambassador's Brandi Lytle's series exploring the significance and meaning behind the Awareness Ribbons for the Childless Community. Founder of the Not So Mommy... blog and creator of the Childless Not By Choice Awareness Ribbon, Brandi shares her reflections on the Awareness Ribbons and her thoughts on being 'childless' as distinct from 'childfree'. You can find links to Brandi's previous posts as well as her blog and instagram profile at the end of the article.
SENSITIVE POST WITH POSSIBLE TRIGGERS: Discussion of childless versus childfree, infertility, TTC, littles, and more...
Childless. This word evokes such emotion. Well, at least the "LESS" part does. I mean, when you google "meaning of less," phrases such as "not as much," "a smaller amount," and even "of lower rank or importance" pop up on your screen. Merriam-Webster Dictionary even uses the word "childless" as an example for the definition "destitute of; not having."
So, why do I choose to call myself childless? And why did I create the olive green Childless Not By Choice Awareness Ribbon? I mean, wouldn't identifying as "childfree" be more empowering? After all, "free" means "able to act or be done as one wishes" and "no longer confined or imprisoned." So, if I forever call myself childless, am I forever imprisoned?
Childless versus Childfree
I've considered the terms "childless" versus "childfree" quite a lot recently. When I first started blogging in 2017, the difference between these two labels was quite clear. "Childless" meant someone who wanted children but could not have them due to chance, circumstance, or medical condition. "Childfree," on the other hand, was someone who chose not to have children. Over the past several years, the line between childless versus childfree has become more and more blurred. And now, even within the "not by choice" community, it seems many prefer to be called "childfree."
But not me.
I am childless. I am not childfree. I will never be childfree.
Are childless imprisoned by grief?
And that brings us back to my original question…
If I forever identify as childless, am I destined to forever be imprisoned by the grief of never having the littles my heart dreamed of…
As I pondered this question, I realized that the answer (for me) is a resounding, "NO!"
No, I am not destined to forever be imprisoned. Though a part of me will always grieve the littles that only grew in my heart… Though I am certain that I will forever encounter triggers that cause unexpected wobbles… I am most definitely "no longer confined or imprisoned." But I am still not childfree.
Finding my freedom...
My "no longer confined or imprisoned" moment came at the end of 2013, when my husband encouraged… (Okay, maybe he pushed a little bit!) When my husband encouraged me to accept that we would indeed live a childless not by choice life. We had been battling infertility for ten years. We'd gone through seven rounds of infertility treatments. We had attended numerous adoption meetings. And I had shed countless tears, sitting on the bathroom floor, only able to moan, "Why?"
When I decided to leave our infertility battle behind and try to accept a childless life… Well, I got my power back. Though I still shed tears at times over what (or rather who) was not to be, I am no longer overwhelmed by daily grief.
For me, infertility was prison.
Being childless… Well, that has brought freedom.
The Childless Not By Choice Awareness Ribbon...
So, at the urging of Not So Mommy… fabulous ones, I created the olive green Childless Not By Choice Awareness Ribbon. I chose olive green because it is the color of peace and represents wisdom, compassion for humanity, harmony, and self-love.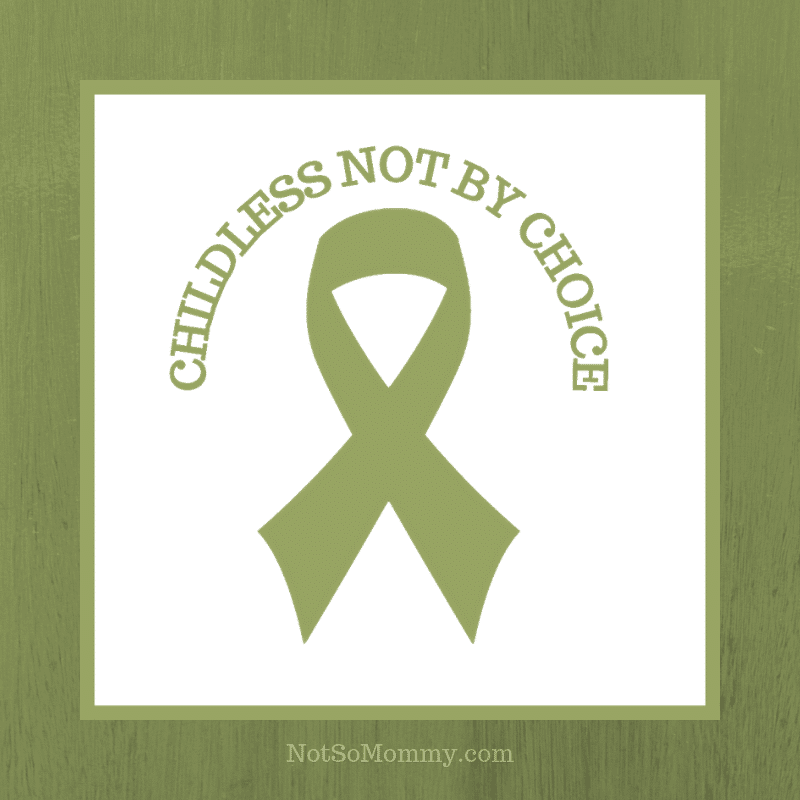 You know, I don't care what Merriam-Webster Dictionary says. I know what childless means.
Childless is a warrior. An incredible survivor who battled and let go and accepted and embraced and redefined. A fabulous one who intimately knows deep grief and yet finds joy despite…
Childless is a person who is so much more…
Learn more about the olive green Childless Not By Choice Awareness Ribbon by clicking here…
Read more in the Awareness Ribbons Series...
The next post in the "Awareness Ribbons for the Childless Community" Series will be published September 2021.
Brandi Lytle, founder & owner of Not So Mommy… and creator of the olive green Childless Not By Choice Awareness Ribbon, is a wife, dog mom, aunt, host mom, infertile woman living an imperfectly perfect life in South Carolina, USA with her husband, Dane, and fur baby, Maddie. She is redefining what momhood means to her and strives to focus on the bright sides of being childless. Her hope is to inspire others to accept, embrace, redefine—discovering a Plan B that brings them joy!

Let's Get Social!
Follow PLICA and Not So Mommy on Insta!